We supply and install dependable and leading worldwide brands of automatic dosing equipment to ensure accuracy and reliability for all our chemical dispensing applications.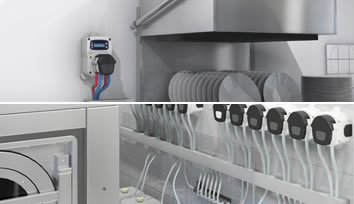 Dishwash, Glasswash, Laundry and Drain treatment
Installing external state of the art dosing units for commercial dishwash, glasswash, laundry and drain treatment applications ensure that consistent cleaning results are achieved. Durable, flexible and reliable, they are designed to work accurately and effortlessly day in and day out in any small or large commercial operation.
With state of the art electronics, minimal and simple servicing requirements, numerous programmes, metered dosages at pre-set timed intervals, peak performance and consistent results are achieved effortlessly with no product wastage and importantly Controlled Budgeted Costs.
Manual and automatic chemical dispensing dilution systems
Two popular types of dispensing systems are available to ensure accurate and measured dispensing of concentrated cleaning chemicals. The first type is a simple single shot dispenser providing a measured dose of chemical in to a trigger bottle, flip top container or a bucket. The container is then simply filled with water and is ready to use. The advantages being the dispenser requires no power or direct water supply and can be installed in remote areas, be it a cupboard or isolated building.

The second system is plumbed in to either a hot or cold water supply and then automatically dilutes and fills the "end use" container with a measured dose of chemical and water simultaneously at the press of a button. Quick and simple and ready to use at an instant with complete control. Some of the key issues arising from manually dispensing and diluting cleaning chemical products are commonly associated with wasted time, costs and more importantly health and safety implications allied to their individual risk assessments.
Incorrectly diluted products will affect product performance. In turn this can cause short or long term damage to surfaces, equipment and health risks to personnel especially with the common misconception that "if I make it stronger it will work better".

Products are designed and manufactured to perform to optimum levels at well tried and tested dilutions. Control is essential to provide efficient and effective cleaning processes and to minimise product and cost wastages and most importantly to provide Safe Working Practices.
For further information and to discuss your requirements, please contact us