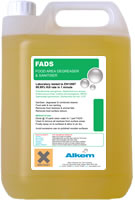 Both a sanitiser and mild degreaser combined in to one product renders 'FADS' ideal for use in all food preparation & contact areas providing highly effective kill rates against a wide range of bacteria.
Independent lab tests: BS EN13697 certification for 99.99% kill rate in 30 seconds…
Effective against: Salmonella typ.., Escherichia coli, E coli 0157.., Listeria mon.., Staphylococcus aur.., Pseudomonas aer.., Enterococcus hir.., MRSA
Excellent cleaning abilities allow the quick removal of food residues, animal fats, grease, dirt and grime. Food safe and non-tainting the sources of malodour are also effectively removed. Fads sanitation & cleaning characteristics are the perfect solution in providing extremely high levels of hygiene control in all food related areas and environments.

AREA OF USE
All food contact areas, prepping surfaces, floors, tiled walls, sinks, stainless steel surfaces, extractor canopies & hoods, microwaves, fridges, door handles, refuse bins

APPLICATION
Trigger spray, mop or sponge

AVOID
Wooden & varnished surfaces

LOCATIONSFood processing plants, restaurants, hotels, conference centres, golf clubs, public houses, bistro's, canteens, commercial kitchens, hospitals, schools, universities, colleges, butchers, bakeries, fast food outlets, sandwich making premises, coffee shops and cafes