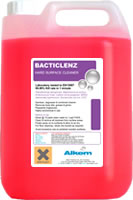 A multi-purpose sanitising and hard surface cleaner.
Safe to use on most hard surfaces, it is a highly effective cleaner and sanitiser combined with a pleasant perfume providing highly effective kill rates against a wide range of bacteria. Independant lab tests were carried out recently succeeding EN13697 certification for 99.99% kill rates in 1 minute.
Effective against: Salmonella typ.., Escherichia coli, E coli 0157.., Listeria mon.., Staphylococcus aur.., Pseudomonas aer.., Enterococcus hir.., MRSA
'BACTICLENZ' removes body fats, dirt and grime and is ideal for controlling bacteria on surfaces that are in regular contact with hands and skin.
N.B. For kitchens and food prepping areas the use of FADS (Food Area Degreaser & Sanitiser) is highly recommended due to its non-tainting properties.

AREA OF USE
All contact hard surfaces, metal and plastic, washrooms, toilet areas & cubicles, sinks, baths, showers, tiled walls, multi-use gym equipment, sun beds etc.

APPLICATION
Trigger spray, mop or sponge

AVOID
Wooden & varnished surfaces

LOCATIONS
Care and nursing homes, hospitals, surgeries, hotels, gymnasiums, conference centres, public buildings, public areas, schools, universities, colleges, etc.